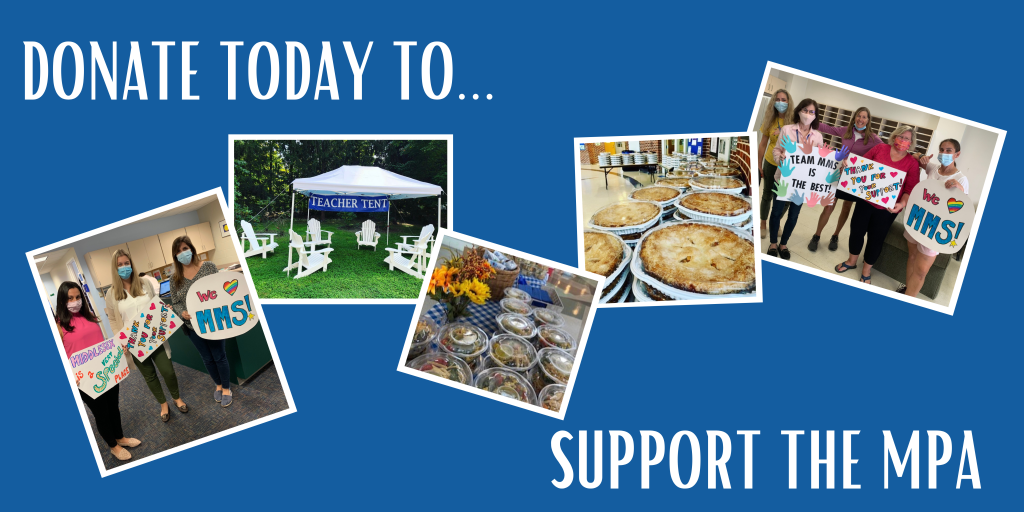 Dear Parents,
We are so grateful our children are learning in school this year, and we are excited that this more 'normal' year is enabling the Middlesex Parent Association to bring back some valued traditions and start some new initiatives to support students, families and staff to build a stronger community at Middlesex!
To do this, we need your support!
Please donate to the MPA 2021 Direct Appeal, our main fundraiser of the year. Your contribution will directly impact our ability to deliver a full year of programs, including:
Teacher and staff appreciation throughout the year, including back to school and holiday lunches, gifting staff festive Thanksgiving pies, and all our staff appreciation week efforts
Enriching student experiences, like Career Day and the 8th grade graduation ceremony and celebration
Parent education including guest speakers and programming on important topics like social media, middle school friendships and building students' social and emotional skills
Meaningful and coordinated year-end gifts for teachers and staff
The introduction of initiatives to build our MMS community through new Community Service and Diversity, Equity and Inclusion Committees
Welcoming incoming families through 5th grade orientation and family socials
Educational resources and activities to enrich and support students' curriculum
Parent socials and other opportunities for parents to connect with one another
Responding to needs as they arise, such as last year's purchase of Adirondack chairs and tables for outdoor classrooms
We are striving for 100% participation in this fundraiser and ask that you donate any amount that is comfortable for your family. Together, this one effort could fund the full-year MPA budget and expand what we can do for our teachers and staff and MMS students and families!

Please donate via the Direct Appeal by PayPal or Pay4SchoolStuff.com or via check by Nov 10!
Thank you so much for your support,
Carol Kennedy & Amy O'Kane, MPA Co-Chairs and Gina Gromelski, MPA Fundraising Chair
How do I donate?
Donate online at PayPal or by logging into pay4schoolstuff.com and selecting the MPA 2021 Direct Appeal under the Fundraising tab. If you don't already have a pay4schoolstuff.com account, click the orange SIGNUP box and provide your information. Or, donate by sending in a check to the MMS office payable to Middlesex Parent Association